Duurzame filters voor de oppervlaktebehandelende industrie

Wegens de toenemende vraag van consumenten hebben bedrijven hun productiecapaciteit in de afgelopen decennia enorm opgeschaald. De implementatie van chemische pompen en filters is hierdoor eveneens toegenomen, wat leidde tot een grote toename van het energie- en grondstoffenverbruik van machines. Het algemene effect: een voortdurend toenemende belasting van het milieu die uiteindelijk problemen zal veroorzaken voor de industrie, zowel direct als indirect.
Grondstoffentekorten en stijgende prijzen voor zowel energie als grondstoffen zijn nu al aan de orde. Hoewel dit geen direct gevolg is van de groeiende bezorgdheid over het milieu veroorzaakt het desalniettemin grote onzekerheid bij bedrijven. Vooral in een tijd waar de vraag van de consument alsmaar toeneemt, worden de omstandigheden voor productiebedrijven steeds nijpender. Daarom is het nu meer dan ooit tijd om op zoek te gaan naar meer duurzame, groene alternatieven.

> Download hier het Hendor stappenplan voor een duurzamer bedrijfsproces.
Hendor Excellence filters: Win now, win later. Certainly green
Met de groeiende impact van de branche op onze planeet in het achterhoofd, hebben technische experts van Hendor het ontwerp van onze filters volledig geoptimaliseerd. Hierbij hebben zij niet alleen gekeken naar de bijdrage voor de eindgebruiker, maar ook voor onszelf als producent. Zo verminderen wij gezamenlijk onze voetafdruk op de planeet.

Zoals u van al onze Hendor pompen en filters gewend bent, staat gebruiksvriendelijkheid voorop. Bij de nieuwe HE-filters komt dit terug in verschillende onderdelen:
- De handige scharnierdeksel. U vervangt filtermedia op een efficiënte, schone en snelle manier.
- Smart pump pull-back system. U bereikt de pomp makkelijk voor in- en uitbouw. Hierdoor bent u sneller klaar met onderhoud, met meer tijd voor regulier onderhoud en dus minder pompschade, afval en langere levensduur als resultaat.
- Tussenkabel met stekker. U koppelt de pomp eenvoudig elektrisch los.

Daarnaast is er extra aandacht besteed aan duurzaamheid:
- Langere en betere vuilbelading van filters. Er ontstaat een grotere interval tussen schoonmaakmomenten wat leidt tot minder filtermedia verbruik op de lange termijn.
- Hydrodynamisch geoptimaliseerd leidingwerk. De filter heeft maximale energie efficiëntie door minder drukverlies en 26% meer flow.
- Componenten van de hoogste kwaliteit Simona® polypropyleen, verwaardigd en geassembleerd in Nederland door onze technische experts. De filter heeft een maximale levensduur, wat de total cost of ownership verlaagd.

Wat klanten zeggen over de nieuwe HE-filter
In het afgelopen jaar hebben we onze nieuwe HE-filters al mogen installeren bij een aantal klanten. Zij waren de eersten die kennis maakten met onze nieuwe, smart technology. Galvanis GmbH uit Zwitserland is een van hen. CEO Simon Kunz deelt zijn eerste bevindingen.

Wat was de reden om deze HE-filterpomp aan te schaffen?
"Galvanis GmbH volgt de innovaties van onze fabrikanten op de voet zodat we deze samen met onze klanten kunnen inzetten om concurrentievoordeel te behalen op het gebied van kwaliteit, efficiëntie en kosten. Daar sluit deze nieuwe filterpomp volledig bij aan."

Welke verbeteringen heeft u tot nu toe gemerkt ten opzichte van het voormalige type?
"De scharnierdeksel is fantastisch, evenals het smart pump pull-back systeem voor eenvoudige demontage en onderhoud van de pomp. Verder is de lange standtijd door de hydrodynamische verbeteringen een groot voordeel. En natuurlijk mag het ontwerp niet worden vergeten. De filterpomp is een lust voor het oog."

> Ontdek alle voordelen van de HE-filter voor uw applicatie

Beveelt u de nieuwe HE-filter aan?
"Hendor pompen staan in onze woorden voor betrouwbaarheid en duurzaamheid. Dit komt tot uiting in de kwaliteit van de pompen. Galvanis staat 100% achter Hendor en haar producten en daarom adviseren we zeker onze klanten een Hendor pomp of filtersysteem te kopen."

Wat is uw algemene ervaring met Hendor?
"Hendor overtuigt ons in de eerste plaats met hun producten van hoge kwaliteit. Maar ook de goede service en ondersteuning tijdens de projectfasen zijn noemenswaardig. Bovendien is Hendor zeer flexibel op de markt en reageert snel op verzoeken van klanten. De samenwerking met het bedrijf is zeer prettig en de medewerkers achter het bedrijf zijn zeer sympathiek en vriendelijk."


Lanceringsoptie: filteralarm
Speciaal voor de lancering heeft Hendor een extra optie toegevoegd aan de HE-filter: een filteralarm. Met behulp van dit alarm haalt u het optimale uit uw filtersysteem en filtermedia, doordat het alarm aangeeft wanneer u de filtermedia moet vervangen.

Let op, deze optie kunt u slechts tot en met 30 juni toevoegen aan uw order via onderstaand offerteformulier. U kunt in het berichtveld aangeven dat u deze optie aan uw order wil toevoegen.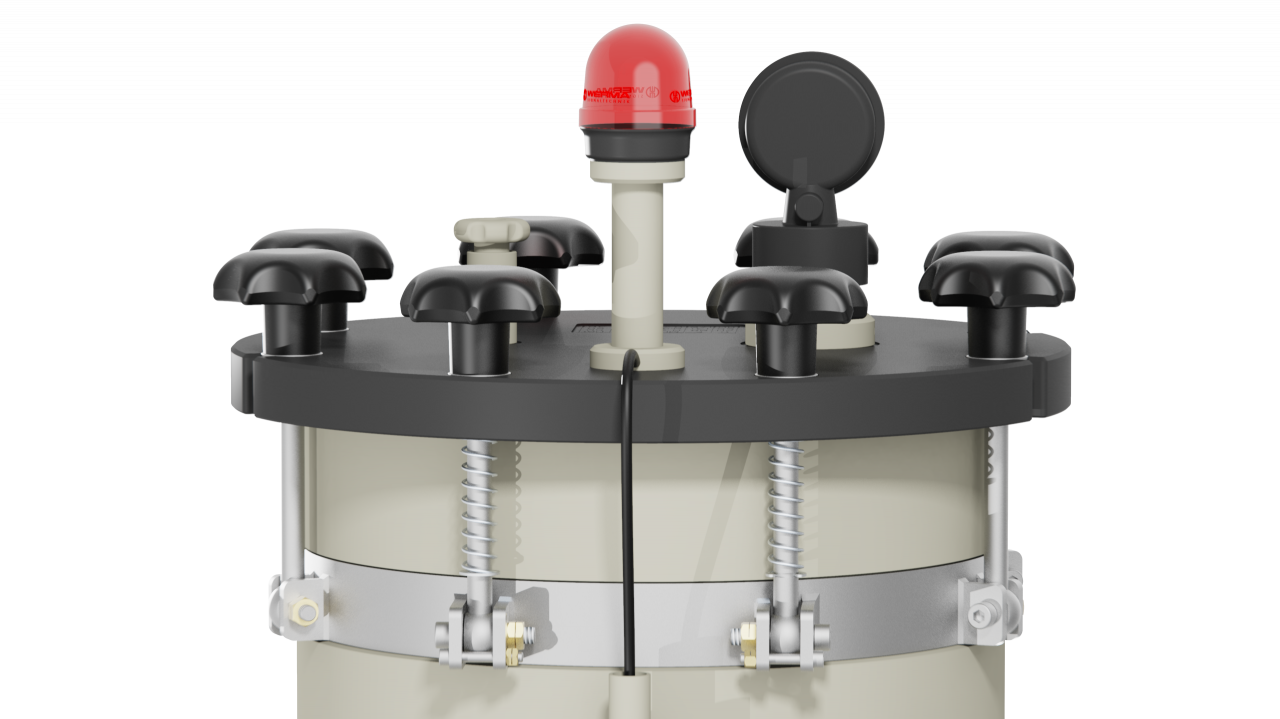 Vraag offerte aan
Via het onderstaande formulier kunt u een vrijblijvende offerte aanvragen voor de nieuwe HE-filters. Na het invullen ontvangt u een e-mailbevestiging en gaat ons support team zo snel mogelijk voor u aan de slag.
Offerteformulier