Sustainable filters for the surface finishing industry
Due to the increasing demand from consumers, companies have massively scaled up their production capacity over the past few decades. As a result, the implementation of chemical pumps and filters has also increased, leading to a large increase in the energy and raw material consumption of machines. The overall effect: a constantly increasing burden on the environment that will eventually cause problems for industry, both directly and indirectly.
Commodity shortages and rising prices for both energy and raw materials are already occurring. While this is not a direct result of growing environmental concerns, it is nonetheless causing great uncertainty for companies. Especially at a time when consumer demand is steadily increasing, conditions for manufacturing companies are becoming more dire. Therefore, now more than ever, it is time to look for more sustainable, green alternatives.
> Download the roadmap for a more sustainable business process.
Hendor Excellence filters: Win now, win later. Certainly green
With the industry's growing impact on our planet in mind, technical experts at Hendor have fully optimized the design of our filters. In doing so, they have not only looked at the contribution for the end user, but also for ourselves as manufacturers. In this way, we collectively reduce our footprint on the planet.
As you have come to expect from all of our Hendor pumps and filters, user-friendliness is paramount. In the case of the new HE-filters, this is reflected in various components:
- The convenient hinged lid. You change filter media in an efficient, clean and fast way.
- Smart pump pull-back system. You can easily reach the pump for installation and removal. This allows you to finish maintenance faster, with more time for regular maintenance and thus less pump damage, waste and longer life as a result.
- Intermediate cable with plug. You easily disconnect the pump electrically.
In addition, extra attention has been paid to durability:
- Longer and better dirt loading of filters. There is a greater interval between cleaning moments which leads to less filter media consumption in the long run.
- Hydrodynamically optimized piping. The filter has maximum energy efficiency due to less pressure loss and 26% more flow.
- Components made of the highest quality Simona® polypropylene, manufactured and assembled in the Netherlands by our technical experts. The filter has a maximum lifespan, reducing the total cost of ownership.
What customers say about the new HE-filter
In the past year we have already installed our new HE-filters at a number of customers. They were the first to be introduced to our new, smart technology. Galvanis GmbH from Switzerland is one of them. CEO Simon Kunz shares his initial findings.
What was the reason for purchasing this HE-filter pump?
"Galvanis GmbH closely follows the innovations of our manufacturers so that we can use them together with our customers to gain competitive advantage in terms of quality, efficiency and costs. This new filter pump is fully in line with that."
What improvements have you noticed so far compared to the former type?
"The hinged cover is fantastic, as is the smart pump pull-back system for easy disassembly and maintenance of the pump. Furthermore, the long service life due to the hydrodynamic improvements is a big advantage. And of course, the design should not be forgotten. The filter pump is a feast for the eyes."
> Discover all the advantages of the HE filter for your application
Do you recommend the new HE-filter?
"Hendor pumps, in our words, stand for reliability and durability. This is reflected in the quality of the pumps. Galvanis stands behind Hendor and its products 100%, which is why we definitely recommend our customers to buy a Hendor pump or filter system."
What is your overall experience with Hendor?
"Hendor convinces us first of all with their high quality products. But the good service and support during the project phases are also worth mentioning. In addition, Hendor is very flexible on the market and responds quickly to customer requests. The cooperation with the company is very pleasant and the employees behind the company are very sympathetic and friendly."
Launch option: filter alarm
Especially for the launch, Hendor has added an extra option to the HE-filter: a filter alarm. Using this alarm, you get the most out of your filter system and filter media by having the alarm indicate when you need to change the filter media.
Please note, you can only add this option to your order through June 30 using the quote form below. You can indicate in the message field that you want to add this option to your order.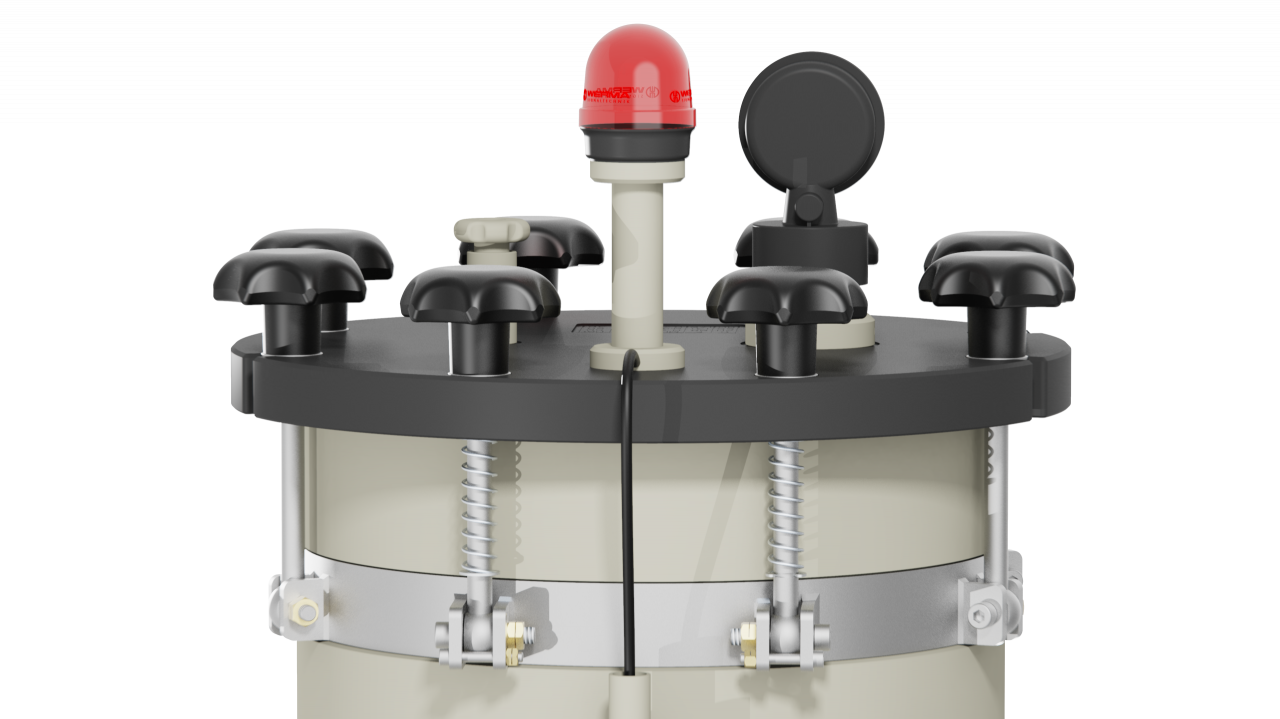 Request a quote
Through the form below you can request a quote for the new HE-filters. After filling out the form you will receive an email confirmation. Our support team will get to work for you as soon as possible.
Quote request form