Pumps and filters for best performance aluminium anodizing equipment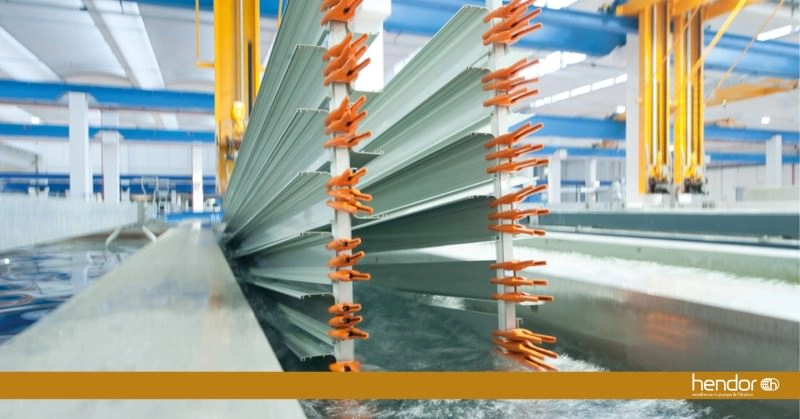 Aluminium anodizing process steps require the appropriate agitation/circulation and filtration solutions. As a result of increasing quality specifications, OEMs or manufacturers look for solutions which can optimize installations regarding these aspects, in the most economical way. Hendor totally understands and agrees with this way of thinking. However, we consider quality and durability of pumps and filters of equal importance. By means of durability and designs, engineered for highest efficiency, a long service life with optimized power consumption allows for the lowest total cost of ownership possible.

The anodizing process entails (electro)chemical conversion of metal surfaces (aluminium, magnesium, and titanium) into corrosion-resistant, durable finishes in several steps. Each phase calls for specific equipment, supported by the right chemical pump or filter. Hendor provides an array of pumps and filter systems which assist in the anodizing process.

Contact Hendor for personal advice regarding your anodizing plant
Horizontal disc filter instead of stainless steel cartridge filter
Surface smut regularly occurs in the anodizing hot sealing process step. When accumulated in the electrolyte, this smut necessitates labor intensive post-treatment, and affects coating adhesion and quality. In addition, contaminated baths require replacement and re-heating. Hot seal baths are typically filtered at 1-1,5 turnover per hour to avoid sealing smut. Due to the high temperature (generally 96-100 °C), manufacturers use stainless steel cartridge filtation systems. However, there is a better alternative in our opinion. Hendor provides a very robust PP horizontal disc filter system with mechanical seal pump which well withstands the hot seal bath temperature, because it is made from Simona® high-grade Alpha PlusTM PP.

The advantages of PP filter systems over stainless steel filter units are:
• significantly lower investment costs;
• lower operating costs due to use of low cost filter paper;
• less energy losses due to PP's excellent thermal insulation properties;
• no corrosion of pump and filter;
• less disposal costs (cartridges are voluminous chemical waste);
• ease of handling due to partitioned filter disc stacks.

Hendor's PP horizontal disc filter systems are standard available with capacity up to 30 m3/h. Though initially developed for hot seal application, these filter systems are also well suited for use with cold seal baths, electrolytic coloring, and rinse tanks.
The best filter media for anodizing
For hot- and cold seal coloring tanks, and rinse tanks, both cartridge filtration and disc filtration can be used – at Hendor we manufacture both. Yet, we recommend using discs. Why? The use of filter paper results in low filter media costs, low waste volume, and lower disposal costs. Down time of the filter unit is avoided by having an additional disc stacks available for immediate exchange.
Filtration system with adsorption media for residual oil and grease removal
Organic contaminants, originating e.g. from the extrusion process or subsequent handling, can pollute electrolytes and lead to inferior anodizing and/or coloring quality. Hendor provides a PP filter unit with specially activated adsorption fibers. These fibers are made of plasma-charged PP, which adsorb non-emulsified oils and greases up to 5-6 times their own weight. Using this effective filtration system results in:
• improved anodizing and/or coloring process;
• improved product quality;
• extended bath lifetime;
• reduced chemistry consumption and waste generation;
• less water usage.
Small pump with eductors for airless bath circulation / agitation
For optimum and homogeneous anodizing process performance, and subsequent stable product quality, sufficient bath circulation/agitation is of utmost importance. Therefore, Hendor recommends a smaller sized pump in combination with eductors instead of a large circulation pump. Due to the venturi design of the eductors, the resulting circulation flow can be 5 times the pump output.

Airless pump / eductor systems are ideal to replace conventional air agitation, thereby avoiding the inherent disadvantages associated with air agitations. The advantages of using pump/eductor tank circulation are:
• less to no acid mist above the tank (sulphuric acid mist is carcinogenic);
• bath conductivity improvement leading to faster processing;
• lower energy consumption;
• more stable process due to less temperature variation;
• no dirt intake by polluted pressurised air.

For bath circulation we advise our well-known robust vertical PP pumps. In those situations where the tanks do not allow sufficient space for these vertical pumps, the special Out-of-Tank versions can be used, maintaining all advantages intrinsic for Hendor's vertical pumps, without requiring tank space. Due to the single, stainless steel shaft, oversized motor bearings, and absence of bearings or seals in the volute, these pumps are very reliable and can essentially operate maintenance-free. Pumps and eductors are available in various sizes to suit each bath geometry.
The best solutions for anodizing processes provided by Hendor
In sum, Hendor provides several high quality solutions for anodizing processes: robust PP horizontal disc filter system with mechanical seal pump, disc filtration and filter paper, special PP filter unit with oil adsorption fibers, vertical pumps (in tank or out of tank), and eductors.

Hendor understands that every OEM and manufacturer has different requirements. Therefore, we personally advise you on the best solutions that suit your equipment, based on our 70 plus years of expertise in the surface fishing industry. Contact Hendor for a consultation with one of our chemical pump and filter experts.