Our part in the green industry: electric motors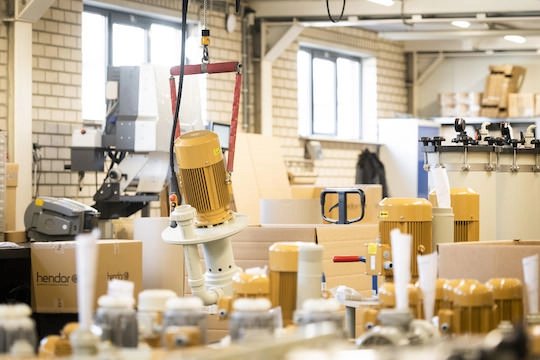 As from this month, new European energy standards apply for electric motors. These standards are part of the global climate regulations in order for all industries to be climate neutral in 2050. Hendor took measures to do its part in innovating for future generations.

The energy transition in electric motors
We mentioned in
an earlier blog
that Hendor transitioned 0,12 .. 0,55 kW electric motors for vertical pumps directly to IE3, bypassing the less efficient, minimum IE2 standard. According to the European Minimum Energy Performance Standard (EUMEPS), the following legislation is put in place:
0,12 .. 0,55 kW three-phase AC motors should at least be IE2
0,75 .. 1000 kW three-phase AC motors should at least be IE
Hendor decided to transition into IE3, because this will guarantee a longer product life cycle for our customers, and prevent them from changing the electric motors of our products within the near future. In addition, we reduce our environmental footprint even more by exceeding the IE2 class.

Sustainably coating our electric motors
But that is not the only aspect of our electric motors, which we consciously altered for durable and sustainable purposes. We've done research regarding the coating of our electric motor and found an eco-friendlier alternative: a chromate-free primer.
The full coating process of a Hendor electric motor takes several steps –
you can read the full process here
. These steps contain a total of 4 layers, consisting of an adhesion promotor, primer, basecoat, and a topcoat. The sustainability factor lies mostly in the primer. Most primers contain chromium trioxide (hexavalent chrome). Since we strive for maximum safety and sustainability, we decided to use a chromate-free and thus hexavalent chrome-free primer. Yet, the newest environmental friendly primer promotes a lesser adhesion. Therefore, we implemented a novel precoat to reach the best in class premium coating system with unseen adhesion power, and corrosion protection. With this precoat, we can use a chromate free primer while maintaining and even enhancing adhesion. The primer is a two component based epoxy with a total thickness of 20 micron. The total coating system delivers a 120 µm thick system with a PU based final finish.
As the industry progresses regarding sustainability, Hendor keeps a close eye on innovations, improvements, and initiatives in order to play its part in the matter. We are happy to have an open conversation about this topic and its influence on the surface finishing industry and/or our products. Please feel free to contact us in case you have questions.