Hendor improves the powder coating pre-treatment process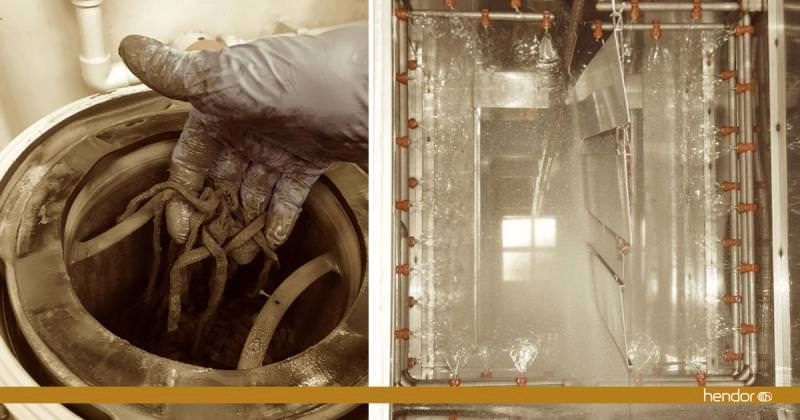 We as Hendor constantly strive for innovation in the pumps and filters for the surface finishing industry. Therefore, we critically look for improvements in our products and its applications. This time we found a way to optimize the chemical pre-treatment of powder coating process.

During the powder coating pre-treatment process the chemicals in the spray tunnel are often contaminated and not of constant quality, even with a frequent feed and bleed regime.
How did we optimize the powder coating pre-treatment process?
We developed a filter technology that keeps the quality of the degreasing fluid constant and clean. The filter remains active longer and captures significantly more dirt due to an adsorption filtration system. This technology combines physical separation and adsorption mechanisms successfully. In the end, this results in a continuously cleansed degreasing bath, containing 70% less dirt in the process solution.
Benefits of the adsorption filtration system for the powder coater:
90% reduction in adhesion problems
Less chemical addition for the degreasing bath
Less solution replacement
Less maintenance for the powder coating pre-treatment plant
Nozzles are less likely to clog
Filter medium is easy to replace
Reduced waste water volumes
Higher productivity
Less rework
The adsorption technology is effective in practically all chemical pretreatment applications that require upgraded performance and reduction in operational cost.

What is powder coating pre-treatment?
Powder coating pre-treatment is a chemical process which prepares a surface to be effectively powder coated. The process entails chemical treatment to take off all dirt and oxides. As a next step, a chemical treatment is given to create an intermediate conversion coating to enhance corrosion resistance and adhesion. Besides pre-treatment in a spray tunnel, also dip pre-treatment is commonly used in the surface finishing industry.
Benefits of powder coating pre-treatment:
Reduces rejection rate

Increases corrosion resistance
Enhances adhesion
Maximizes product life time
Products which can be used for the powder coating pre-treatment process: