Our manufacturing process explained: Assembly & Testing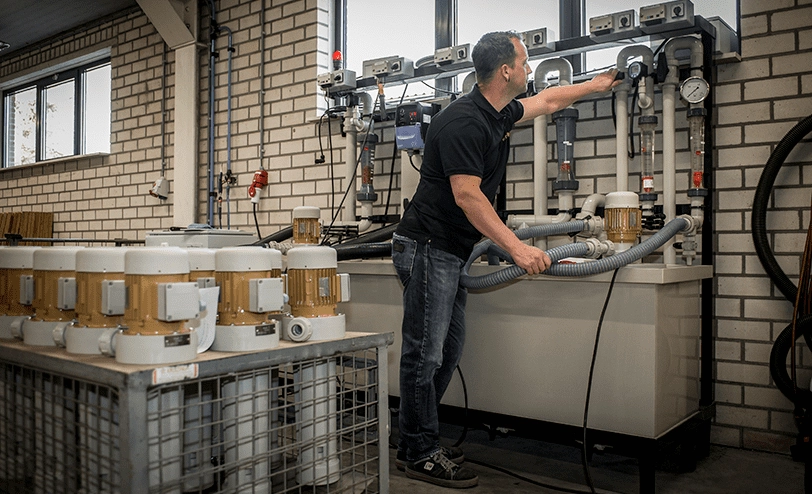 We believe that designing and manufacturing our products goes hand in hand with a great deal of expertise and craftsmanship. In this series of five blogs, our goal is to elaborate on our manufacturing process. How do our pumps & filters go from PP to an end product? Step 5: assembly and testing.

Assembling chemical pumps and filters
Now that every component of our end-product is ready, they can be picked for final assembly. At Hendor, we have specialists who assemble all our products. Depending on the type of product, this process can take from a half an hour up to a whole day. This step seems rather easy, but requires utter precision. Our experts have to check every measurement of the different components again before they are constructed together. We're talking about tolerances with tenths of millimeters. Whenever a specific component does not meet our standard, it has to be altered. This way, we guarantee our high quality products, their efficiency, and reliability.

As for every manufacturing step, we always keep our customers in mind. We grease the screws with anti-fretting paste so they can be screwed on and -off easily for maintenance purposes in the far future. This makes our products even more user-friendly, repairable, and extends its service life. A valuable product with a long service life, such as Hendor, deserves good repairability.

Testing for optimal performance in the surface finishing industry
After being fully assembled, we thoroughly test our products for optimal performance. At the Hendor headquarters, we have a special department where we perform the tests. The test entails two measurements, starting with a reference measurement, followed by a second measurement after twenty minutes. During our performance test, we check the flow rate, pressure, and current (amperage) consumption. In addition, we perform a shock wave method bearing condition test to audit the bearings, and a vibration check. All the test results are stored, and compared to data from our ERP system. Whenever deviation occurs, our experts will make sure that it is revised to proper state.
Our manufacturing process is complete after the test of our products. This leaves us at preparing the orders for shipment to our customer. We're very conscious of the environmental impact that wrapping materials, and shipment can have. Therefore, we constantly look for the eco-friendliest, but still safest way to make this possible. Right now, we use recycled paper and cardboard. We ship our orders – depending on the final destination – by road, air, or sea freight to the final destination in one of the 50 countries we export to.
With each shipment, we add a manual, because the performance and lifetime of a pump is largely influenced by how well the pipe work size and layout is installed. This manual states the 10 golden rules for optimal installation. By following these rules, the Hendor pump will perform reliably to full satisfaction.
These final steps conclude our blog series regarding
our complete manufacturing process
. Make sure to follow us on
LinkedIn
, where we will share more process- and product detailed subjects in the upcoming future.