Still enjoying going to work after more than 40 years of service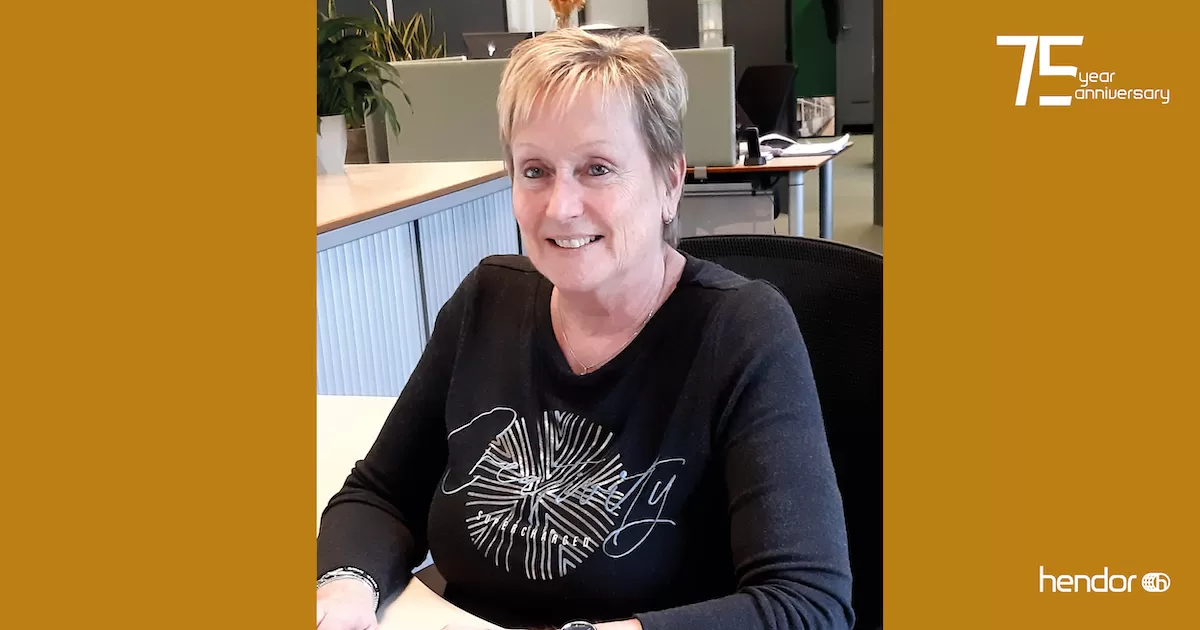 Hendor employees play a crucial role in the quality of service we provide. As an employer, we are extremely proud of that and do everything we can to cherish it. In 75 years, many people have not only contributed, but more importantly have become part of our Hendor legacy. Karin, with her 40-plus years of service, is one of them.
Everything with the type and punching machine
Karin began her career at Hendor in 1982. "At that time there was a lot of youth unemployment, so I also didn't have a job for a while. My uncle was working at Hendor and told me that they were looking for someone here for administration. Not much later, I was hired. I was twenty years old by then." During that time, she was the only one in the administration department with a variety of responsibilities, from accounting to billing. "We didn't have a computer or fax machine back then," she laughs. "You can hardly imagine it now, but I had to do everything on the typewriter and punching machine."
Over the years, Karin's duties changed. The administrative position was exchanged for a role in the sales department and then customer service, where Karin is still responsible today for Meco and customers from Germany and Switzerland. "I have been able to do new things all the time over the years. For me, that variety has certainly ensured that I still enjoy my job."

Export growth and turnaround through digitalization
Besides the change in her position within Hendor, Karin has also experienced the necessary transformations of the company itself. "When I started, we exported mainly to Belgium and Germany. At that time, the European Union did not yet exist, so that meant that customs papers had to be filled out for every foreign order. By typewriter. That was a lot of work when I look back on it now. We now export to more than 50 countries around the world. That in combination with digitization, all the systems we now use to process orders, etc., are for me the biggest changes I have seen in my time here."
"As the company grew, new people joined and people left. I can say that I always have pleasant contact with my colleagues. We now work here with about 35 people, all different, and everyone contributes in their own way. We are all left in our own dignity and that is incredibly nice." According to Karin, that has been an important motive for working at Hendor all these years. "At Hendor they are interested, always informed and give you a chance to learn. There is no pressure that everything has to be faster. Quality is paramount here."
In a few years Karin may retire, but that is not necessarily something she is looking forward to yet. "My partner is six years younger than me, so he can work for a while longer. I don't feel like sitting still at home by myself then. I do want to keep doing something. What exactly? Time will tell. For now, I still enjoy going to work."

A memory that will always stay with Karin:
"In 1999 we had a big party, where the main hall was completely converted into a ballroom. Former managing director Henk Bohncke and maintenance engineer Piet Reijnders retired then. That was a really cool party."