Latest trends in the surface finishing industry identified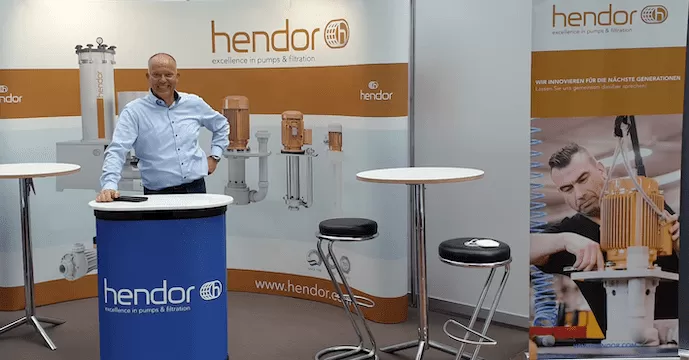 September has been special for society as well as the industry. Governments have been lifting restrictions on physical meetings and events. After 1½ years, we were able to meet our colleagues in the surface finishing industry again during two physical events: the ZVO Oberflächentagen in Berlin, and the surface treatment and materials fair MES in Den Bosch.

Hendor was present on both occasions with a booth. As we were very excited to see and speak to everyone, we were also very curious of what is happening in the branch. After many conversations, we identified some key trends:

1. Will business pick up its pace again?
Without any exemption, business has been picking up quickly since the first quarter of this year. In many cases the growth figures for Q2 and Q3 are double digited against the same period in 2020. Of course, a lot of this growth is attributed to the industry recovering its velocity, lost since Covid slowed it down in March 2020.

While the global industry is emerging from the Covid recession, it becomes more and more clear that the intricate international structure of manufacturing, stocking and logistics has been bruised while the handbrakes were pulled. Throughout the industry, shortages of raw materials and components are reported to slow down industry's pace. Shortages and demand also raise manufacturing cost, due to steeply rising prices of materials, energy, and transport. The reduced output of the automotive industry, due to lack of semiconductor components, is exemplary for what is happening throughout the industry. Similar effects are caused by shortages of common chemicals and the industry's materials and components like polypropylene and electromotors.

Although gears of global industry have started to turn faster, the hick-ups and hurdles make it difficult to foresee how productivity and output will develop in Q4 of this year. Also predictions for 2022 are still difficult to make. Much will depend on how much time the international business and industry will need to re-establish its global dynamic stability.
2. Awareness and sustainability
Since several decades, the environmental impact and sustainability of the industry has been a returning topic. In the early days, protests against industrial pollution was the subject of local environmental activists. Over time, as the environment and climate got more impacted by humanity, climate has become the territory of global voices and politicians. From being a nuisance to the industry, the environment has become a consumer market to manufacture for. A striking example is the electrification of the automotive market and transport in general.

Today, it is becoming visible; the industry has started to embrace climate. Not just as a market, but also as a goal for itself. Beyond the pressure of legislation, companies are looking into becoming sustainable. Seen from the outside, our surface treatment industry is laced with metals and hazardous chemistry. At the inside, everybody knows that many, many efforts have already been made to phase out hazardous and polluting substances from products and processes, while product and process optimizations are applied for lower consumption and reduction of waste.

Companies are now also looking into reduction of carbon footprint and energy consumption. While on the one hand investing to take their consumed energy from renewable sources, more and more solutions are offered to reduce energy consumption itself. Ranging from processes that work at lower temperatures to insulation and equipment with higher energy efficiency.
Hendor is ready for the future
Over the last decade, also Hendor has been investing in sustainability. With our roofs covered in solar panels Hendor covers a significant part of its energy need from solar power. Additionally, we have been looking at reusing residues from
mechanical machining
, to prevent waste and destruction of valuable materials.
On product level, Hendor has always made efforts to prevent spillage of materials. Using highest quality materials and engineering reliable and durable designs, the motto is: "What does not break down, does not need to be replaced". And if finally something breaks down, than Hendor products have been designed with repairability in mind, without discarding whole filtration units.
The recent introduction of the
Hendor Excellence series filter pumps
is a
new chapter
in energy efficiency. Hydrodynamical enhancements have resulted in >50% less internal pressure loss, which translates to energy that is not consumed. A second effect of the new design is increased service life of filter media. The longer they last, the less chemical waste is generated. Finally, new design and optimized manufacturing techniques ensure that our premium filter pumps will last even longer than they already did.
As our goal was during the events, we would like to create an open conversation on the future of the surface finishing industry. What are your thoughts and opinions on the matters described above? Feel free to send us your input! Lastly, we would like to take the opportunity to thank ZVO and VOM, Vereniging ION, and Mikrocentrum for the greatly organized events.